I first jumped out of a plane in 1980 and have over 1300 skydives now, but I vividly remember doing my first nighttime skydive.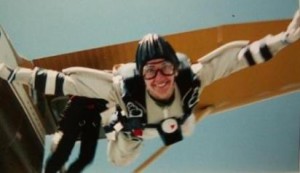 The conditions for skydiving at night are quite different than in the daylight because the winds behave differently at night.  At night winds may be very strong above 1000 feet, but totally still near the ground.  The speed of the wind affects the forward speed of a parachute.  Also one's depth perception is diminished at night.
On my first night jump, I was surprised by the change in wind conditions and decreased visibility as I approached the ground.  I found myself heading outside the range of the car headlights that were illuminating the landing area and wasn't able to see where the power lines were that I knew were close.  This caused me to have to make some quick, but gentle and precise canopy maneuvers close to the ground in order to land safely.
As a result of this experience, I learned the importance to a skydiver of three interrelated things: the parachute, the understanding of how to make the best use of it through practice and study, and being prepared for unexpected conditions.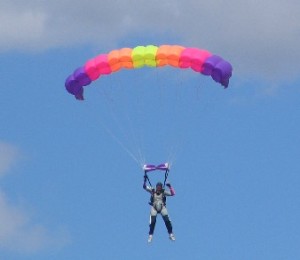 Similarly, there are three things in life that I have found essential: God's presence, the understanding of how to turn to God in both practice and study, and being spiritually prepared for unexpected situations that come up.
In Science and Health with Key to the Scriptures by Mary Baker Eddy (467:13), she wrote, "To grasp the reality and order of being in its Science, you must begin by reckoning God as the divine Principle of all that really is. Spirit, Life, Truth, Love, combine as one, — and are the Scriptural names for God. All substance, intelligence, wisdom, being, immortality, cause, and effect belong to God."  To me Eddy is saying that being familiar with what God is and what God does helps us experience the effect of divine ever-presence in our lives.
The process of benefiting from God's ever-presence is initiated by acknowledging God's power, His perfection, Her value and eternal Love.  When we practice consciously staying with God, that is always steering our thoughts toward divine Truth, the parachute of God's love and care lands us safely no matter how far we have fallen or what has befallen us.
Some of the ways divine Love has landed me safely after a tough fall through a dark experience are by giving me healing, comfort, understanding, harmony, and supply.  The apostle James explained this phenomenon this way when he wrote to the twelve tribes of Israel (see James 4:8), "Draw nigh to God, and he will draw nigh to you."  It's not that God actually gets closer to us, because God is always with us, but being prepared for unexpected situations by practicing love and studying His Word on a daily basis we feel His presence more closely.